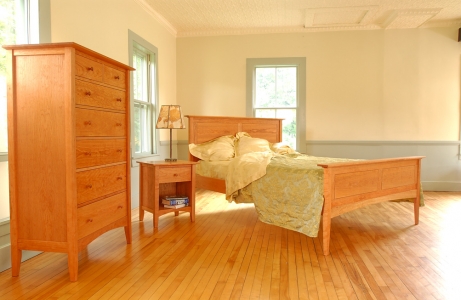 Shakermoon and Harvestmoon beds feature complimentary arches to the head and footboards, cradling the sleeper in a moon shaped comfort. The panel beds display double panels on all bed ends. Grain and color flow seamlessly through panels in a landscape panorama.
The Asian dovetail bed honors classic Japanese wood joinery, complicated in its joinery, simple in its elegant design. There are no metal fasteners or hardware. This sturdy platform bed employs a series of tapered dovetail joints that slide into one another.
The Harmony Bed offers a slightly tilted headboard for those seeking a more comfortable reading position. The headboard posts offer a gentle curving shape to anchor the bed. Our Four-poster bed follows the traditional shaker design, featuring light and simple lines with strength and durability underneath. Its knock-down format allows for placement in any bedroom. 
All of our beds have our unique platform design.  Seven wide hardwood slats have holes drilled near both ends that slip over evenly spaced dowels on a ledger strip inside each side rail make for an unmovable platform.  Heavy castor bed hangers are morticed into the side rails and bed ends.  As bed parts drop into one another (no tools required) the entire bed locks ever tighter together.